Four Seasons: Still Kicking at 50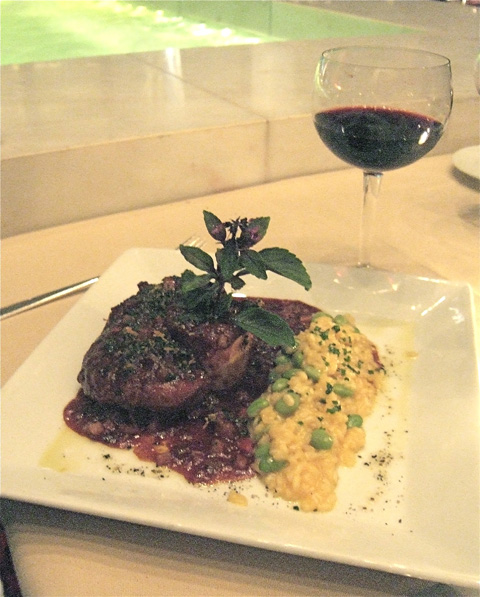 The kitchen is right-on tonight with splendid osso buco on the $59 prix fixe. Photo: Steven Richter
I'm always anxious when I walk into the Four Seasons. I don't want to see frayed carpets or tarnished service plates. I want it to be fresh and wonderful. It's the same feeling I get having lunch with an aging beau from college days. Or the naughty boy I adored when he was 30 and I was a disco dancing queen at 43. I want him to look exactly the same. If you're old enough, you'll know what I mean. I want to see Joe Baum's snappy go-for-broke Four Seasons when the ultimate managing Hungarians, George Lang and Paul Kovi, set the stage, re-upholstered the banquettes and ordered the cherry blossoms, the green matchbooks, the waiters' spring cummerbunds as the season turned. There was a 12-page "Winter Is Here" countdown procedure manual hot off the Xerox "to energize the Four Seasons' psyche," I reported in "Can Spring Be Far Behind?"
In that January 1970 New York review, I was taking its measure in the eleventh year. "The Four Seasons opened in July, 1959," I wrote. "It was that year's restaurant. It might have paled drearily into last year's restaurant; instead it has ripened and mellowed with age. It is the longest running theatrical production on or off Broadway, a fantasy New York – New York in stainless steel. Intimidating, coldly elegant, extravagant, exciting, contemporary, stark, mannered, art for the sake of show, show for the sake of money, rife with throwaway luxe (imagine fluting a mushroom destined for imminent slicing). Like New York, the city, it can be conquered. Some days the soaring canyon of steel-and marble-delineated space seems almost cozy.  And though the city rots, this most New York of restaurants never unlaxes. The service is crisply Fred Astaire."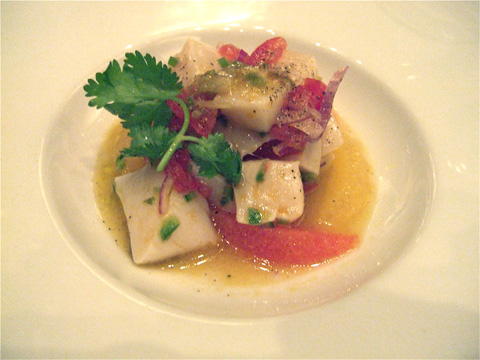 A fine balance of flavors sets off the sweetness of day boat scallops in ceviche. Photo: Steven  Richter.
And now, amazingly, the city trembles in crisis again. The grand dame is 50, no longer the maîtresse of wildly expensive on-the-house barrel tasting production numbers for trade, press and the Daddies Warbucks of the snooty wine societies, but still graceful and kicking.
In recent years, I've been to the front room Grill feeling like a teenage groupie among titans, charting the Power Lunch, which was first documented by Esquire in 1979 featuring miniature little offerings fashioned by the small hands of Japanese women, according to Paul Kovi and Tom Margittai (yet another stylish Hungarian) who had bought the place from a foundering Restaurant Associates. There have been cruel and cataclysmic power shifts in our city, but what's left of the Masters of the Universe – political, financial, media, real estate – some limping and bruised by the current fallout – still love to flaunt their table status at lunch in the third dynasty of the Four Seasons, where Julian Niccolini and Alex Von Bidder now referee.
Our friend Bob, a regular, has lured us – the Road Food Warrior and me – to the Pool Room tonight in the reign of this odd couple – mischievous Julian, prim Alex – to taste the $59 three-course menu plotted to run all year celebrating the birthday. In uptown reality, this is a bargain since bison filet with foie gras alone costs $55 on the regular menu.
I check out the carpet. It's fresh enough. The ladies room? Paper towels, but luxurious cottony ones. I am relieved to see the Picasso theater backdrop still hanging on the wall between the two rooms. I worried it might have been sold. The pool looks clean. Alas, the blue neon of the Chase logo across Park Avenue, blaring through the sensuous chain curtains, is a terrible  scar.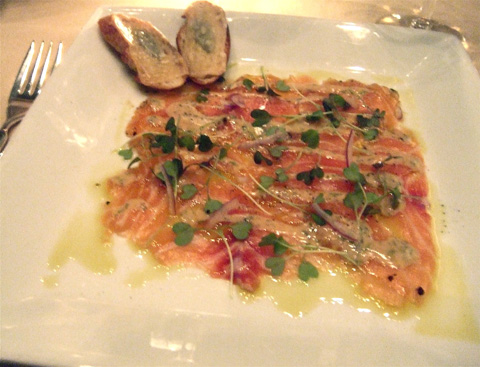 Gravlax with mustard dill sauce has evolved from the day when the Grill was known as The Bar. Photo: Steven Richter.
Quite frankly, all of us are surprised that the food is quite good. We love the old dame and secretly, we now admit, we were concerned she didn't have it in her. Disappointments in the Grill over the years have left expectations low. True, this listless, thin-sliced version of the house's sturdy, once revolutionary gravlax with mustard-dill sauce, does not match memories.
It was thick and roasted. And the delicate little croissants of olden times are puffed up and not very French, but Bob can't stop eating them. "I always get this way just before I leave for the Golden Door," he explains, chiding himself for over-indulging as the waiter brings a fresh batch warm from the oven.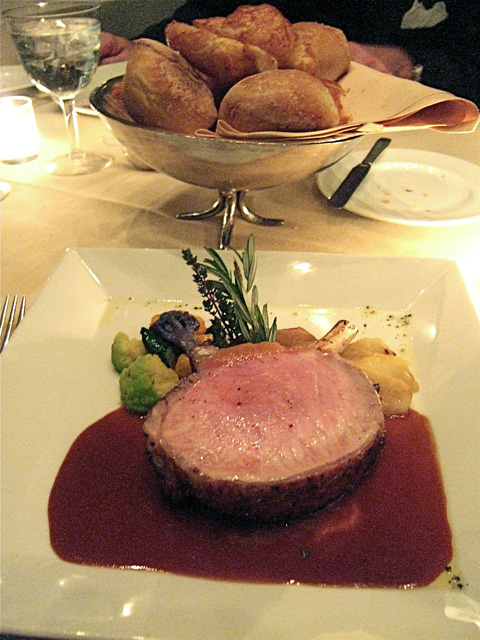 An encore of croissants arrives with entrees, including a nicely rarish pork chop. Photo: Steven Richter.
But tonight, chef Christian Albin's dayboat scallop ceviche is a smart balance of sweet scallop, red onion, tomato and orange in two colors with a gentle afterburn. It's impossible to keep a cool, critical head over my risotto, clearly souped up in my honor. It's nearly half lobster, delicately cooked and piled high with black truffle, remarkable truffle. The scent wafts to my nose as it hits the table. There's more risotto alongside my osso buco, of course, yellow with saffron in the classic Four Seasons edition, and the meat is juicy, cooked through, perfectly caramelized. It's not easy to get a doubly thick pork chop as moist and pink as Steven wants it, and this one is. The accompanying buttery apple wild rice pancake keeps the big chop from getting a bit boring. Bob sends back his salmon, insisting it's not rare enough. "You'll get it back raw," I warn him. And sure enough, the new salmon is too raw for me. I like my salmon rare but warm. But both Bob and Steven insist they prefer it as near-sushi.
The room is cheerful, even though only half-full on a Monday. Niccolini bounces around in high spirits tonight, teasing Bob unmercifully. He is either amazingly pleased with life or has had a few drinks, I decide, watching him race off to perch on a banquette beside a glamorous Russian "with legs to here."
A canoodling duo sitting glued close on a nearby banquette – by dessert she is nuzzling his neck, almost sitting in his lap – remind me of how seductive the Pool Room dinner à deux can be. I remember one hot and tipsy date in the 70s daring me to slide down under the table. "I can't," I whispered. "I'm a restaurant critic." And I recall the bitter sweetness of being seated at a table for two next to the pool on the evening of our last anniversary after my husband and I had decided to divorce. The house had set a major floral arrangement on the marble pool edge beside our two-top. "Quenelle power," my husband called it, using his shorthand for the perks that often came my way as New York's Insatiable Critic. I interviewed Hedy Lamarr at lunch for a 1970 Ladies' Home Journal story called "How the World's Great Beauties Stay Beautiful" (genes and plastic surgery seemed key), trying to get her to jump in the pool naked as she had famously in the 1933 Czech film Ecstasy. She did not seem the least bit interested.
And I always smile when I recall interviewing Paul Bocuse in the kitchen the first time he came to America – click here to read "Paul Bocuse Cooks the Dinner of the Century." The great Lyonnais chef tied an apron around my waist and asked me to peel a kilo of truffles, a rare nicety only he could afford. But what did I know? For years after I constantly criticized unpeeled truffles… I wonder if I shamed anyone into actually peeling them.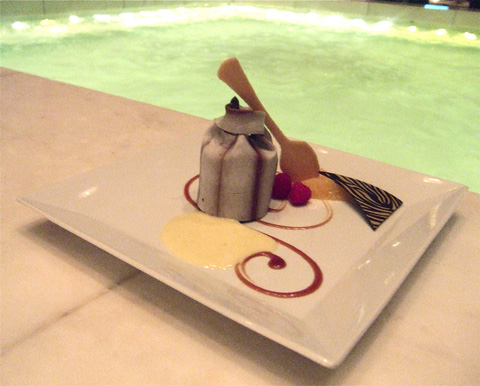 White chocolate is a big mistake on this mini of the heirloon Fancy Cake. Photo: Steven Richter
In those early days, the stylish dessert cart being wheeled to the table set off frissons of feverish anticipation, even though I almost invariably chose the chocolate velvet. Of course I could expect a few cozening extras, a slice of their Fancy Cake too – cut from the huge bowed "hat box" frosted in dark chocolate. And ice cream. The old world cart has been retired and tonight's individual portion, a flat slab of chocolate velvet is not the voluptuous temptation I remember. This miniature version wears a soapy white chocolate robe with light brown chocolate stripes. Better by far is the tarte tatin with verbena ice cream.
For old time's sake, to commune with your youth or the past, to taste the posh that survives in this landmark, I urge a Four Seasons anniversary excursion in this year of the $59 prix fixe. True, with five glasses of wine, tax and tip, we've spent $103 per person. And a serious wine or two could boost the total. I say any excuse is a good one to keep the Four Seasons on estrogen. I felt richer the next morning doing my own stimulus package.
99 East 52nd between Park and Lexington Avenues. 212 754 9494.  Closed Sunday.